When it comes to using a cell phone abroad, I've heard horror stories.  Mostly unpleasant surprises on phone bills when people get home from their trip (i.e. in the thousands of dollars).  I completely agree that the whole thing is confusing, and in the past, I've never felt sure that I'd get home without billing disappointment.
One option to keep surcharges at bay is to just keep your phone turned off.  Period.  Wouldn't it be nice to be unplugged for your trip?  I watched this clip recently which made me feel that much more interested in doing this.  The easiest way I've found to avoid any network-related charges if I'm not planning to use my phone for calls or network data, I just put it in airplane mode.  Then if I'm in a wifi hotspot, I can easily turn on wifi without any other network usage risks.
Keeping your phone turned off works pretty well if you're alone.  In fact, I had a wonderful trip to Paris a few years ago without a phone and just with a good old fashioned guidebook.  But if you're traveling with others, and you want to split up and then regroup later, let's face it, phones are GREAT.  Since the costs of using your US cell phone plan while abroad can be prohibitive, you need to understand your options.
Use your standard (US) phone plan, with options
If you plan to only use your phone when it's an emergency and you're in a real bind, then you can just whip out your GSM-enabled phone and make the call.  If you're only making a quick call or two while traveling, this is probably your best bet.  But BE CAREFUL, since it adds up FAST!  Most rates are in the $1-2/minute range for calls, $15-20/MB of data, 50¢/text message (no pic/vid), and $1.50/multimedia message (with pic/vid).
If you think you'll want to be a little less restricted in your phone usage, but you still plan to limit yourself, you can call your US cell provider and get an add-on package for the time you'll be traveling.  For example, AT&T offers add-on packages for international roaming, ranging from about 20¢/text message, 25¢/MB of data, and $1/minute to almost half that if you plan to do a lot of roaming and buy in bulk.  The biggest problem with the add-on packages is that you buy the package beforehand–if you go over, then you get charged higher per-use rates; if you go under, then you've got unused minutes/data/messages that will likely go to waste.  But still, you're getting a better rate and you won't need to be quite as nervous about your bill as you'd otherwise be.
One special note on T-Mobile is that if you have one of their Simple Choice monthly plans ($50/one line, $$80/two lines), you get free international data and text messages and 20¢/minute calls.  While I'm not a T-Mobile user, I've heard from others that the prices are just as outlined (i.e. no surprises), and that while the data operates at 2G/EDGE speeds much of the time, the low cost and no surprises makes it entirely worth it.
Less expensive options with international and local SIM cards
If you really want to use your phone on the cheap and you think you might need it pretty regularly–which will be especially handy if you have several phone-users in your group such as teenagers, grandparents, or a co-traveling family–then you have the option of a European prepaid phone or plan.  For this, you have several options.  While these aren't quite as simple as using your US carrier plan, you'd be surprised what great rates you can get if you're willing to take a few minutes for the extra legwork.
International SIM cards – Frequent travelers who visit multiple countries seem to like this option, because it can be used in any country without expiration assuming you make a call at least once every two years.  One well-respected company offering international SIM cards is TravelSim.  With TravelSim, you buy the starter package (activation, European phone number, SIM card, and prepaid 50€ value) for 85€, currently about $120.  You can then make and receive calls on your own GSM-capable cell phone from/to anywhere in the world at reasonable rates (from Europe, about 50¢ per minute for outgoing calls; free for incoming calls).  Text messages are about 50¢ to send (incoming=free), but the price drops to about 13¢ for text messages sent to other Europe numbers (including other TravelSim users).  While the rates look a bit high, the fact that you get free incoming calls and text messages kind of means you're getting twice as much for your money.  Data is not nearly as cheap–in fact, it's not a great deal on their pay-as-you go plan, coming in around 50¢/MB.  They do, however, have prepaid options, based on calendar duration and total MB, that bring the price down to 20¢/MB.  Similar to the prepaid data packages from US carriers.  With the abundance of free wifi in Europe, this may not be such a bad option.  But accessing data on the go (including maps) can rack up.
One nice thing about TravelSim is the fact that you can use it across borders, so if you've planned a trip that takes you to multiple countries, you're good to go.  Plus you get your SIM card before you leave on your trip, so you're ready to hit the ground running.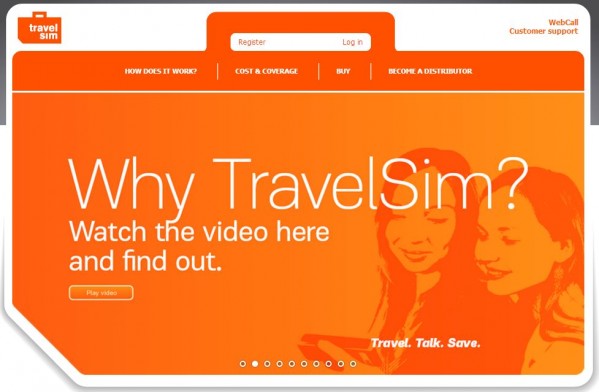 TravelSim is a good option for a prepaid SIM card that you can use in any country
Local SIM cards – This is generally the least expensive option, but it requires that you find a place to buy a SIM card upon arrival in your destination country, and it generally (but not always) requires that you buy a new card if you cross into another country while traveling.  In many countries, you'll be able to find a place to buy a SIM card at the airport.  Just head to an airport shop and ask to buy a prepaid SIM.  In some airports (e.g. London), you'll even see vending machines that sell prepaid SIMs.  If you don't find one at the airport (or just want to get to your hotel before doing anything else), just look for a mobile phone shop or a convenience store once you're settled.  Once you have your SIM, just pop it into your unlocked* GSM cell phone in place of your US-carrier SIM, and you're ready to make calls.  (Note: don't lose your original SIM, otherwise you'll need to make a trip to AT&T/Verizon/T-Mobile/etc. when you get home.)  In some cases, you will need to update the APN settings on your phone–you may want to ask the person at the store from which you're buying the card to help with this update, and make sure you can make and receive calls before leaving.  If you're having trouble figuring out what your APN value should be, and you have a wifi connection, check out this site for iPhones or this site for all others.
Rates on the local SIM cards will vary from brand to brand and country to country, but you'll know when you're buying how much it costs and how much service you're buying, so that's nice.  With most SIM options (including TravelSim), you'll be able to reload your SIM online or by picking up an additional prepaid package in-store.
One thing to keep in mind with these international SIM card options is that you will not be reachable at your normal (US) phone number.  This might be a good thing (i.e. avoid calls at 2am in Europe when your friends back in the US have just put their kids to bed and forget you're out of the country)!  But if you need to be reached from the US, you'll need to pass along your new number or handle calls via Skype or some other online method.
And lastly, there are three different sizes of SIM cards used in cell phones of the past several years–standard, micro, and nano.  Just be sure you buy the one that's the right size to fit in your phone (some SIM packages will include an adapter to make it work–just double-check before completing your purchase).
Summary
There are plenty of options for using cell phones while abroad.  I've just outlined a few of the most common ones, based on my experience and the experiences of others. The key is to know the costs and your expected usage and to pick the right plan for your needs.
Summary of cell phone options
US Carrier
(no add-ons)
US Carrier
(with add-on package)
TravelSim
Local SIM
Expected usage
Emergency or occasional use
Occasional but expected use
Frequent use throughout your trip
Lots of calls and data
When this is a good option
If you really don't plan to use your phone but want to have the option if needed
If you want to use your phone from time to time but don't want to worry about other SIM cards
If you want to be ready to use your phone as soon as you start your trip If you want to be able to cross borders without changing SIM cards (e.g. from Spain to Portugal)

If you want to easily/cheaply communicate with other members of your family or traveling party

If you want to use your phone frequently and want the lowest price for both voice and data

If you want to easily/cheaply communicate with other members of your family or traveling party

Be aware
Bills can add up FAST and without you knowing, especially if you're using data
You may have unused minutes or data left in your package, making the add-on/package savings not so great a deal when all's said and done
Plan ahead for this one, since you'll want to order your SIM early enough before your trip that you'll have it when you leave
You'll need to find a place to buy a prepaid SIM upon arrival in your destination country

Also, as most SIM cards are country-specific, you'll likely need to buy a new SIM every time you cross a border

Cost per use
$$$$
$$$
$$ (out-of-network)
$ (in-network/country)
$
Other notes
Be sure the phone you take with you is unlocked and GSM-capable*
Be sure the phone you take with you is unlocked and GSM-capable*
*Additional notes about using another carriers' SIM card in your own phone
In order to use another carrier's SIM card in your phone or mobile device, your device must be both GSM capable (these days, it's the majority of phones–you can check here) and it must be unlocked.  Thanks to an FCC ruling in late 2013, carriers are now required to unlock devices phones that are no longer under contract (subsidized) and that meet a handful of other (generally consumer-acceptable) criteria.  If you're still under contract with your current phone, just grab an old one from the back of your kitchen drawer (that's where mine is) or ask around among friends for one that's not in use.  Here's how to request an unlock from some of the top US carriers:
AT&T: via online form at www.att.com/deviceunlock
Verizon: Contact Verizon Global Support at 1-800-711-8300 and ask the representative for a SIM unlock
T-Mobile: Contact customer care by dialing 611 from your handset, or by calling 1-877-746-0909
Sprint: Call 1-888-226-7212 or contact Sprint Worldwide Care via chat or email from the web
For more details on each of these (including what information will be required of you at the time of making the request), check out this great write-up from gazelle.com.