Vacation rentals are great for so many reasons.  But since they're separately owned, and the owners don't have a brand reputation to uphold, there's less consistency than what you'd find with hotels.  Whether it's consistency with amenities listed, remodeling projects underway, environmental questions, it's just worth hearing from them directly.
When we were researching vacation rentals in Paris, we explored HomeAway and Airbnb (two of the biggest vacation rental resources).  In our search, we learned a number of lessons that will come in handy down the road.  Hopefully you'll find some of them handy, as well.
If it doesn't say it's an amenity, it never hurts to ask.  After searching through a number of rental options on airbnb, we found one that was in a GREAT location at a good price.  The only problem?  The listing had almost no detail about the place.  I knew location, number of bedrooms/bathrooms, and that there was a washing machine.  There was only one photo posted, and it was of the backyard.
All of that counted for a lot (especially the backyard, because our boys thrive on outdoor time, especially when the little brothers are napping), but it left a lot of questions.  So I used the airbnb online messaging system and sent a note to the owner.  I asked for more photos, I asked about a dryer (sigh, no dryer), and I asked about child-friendly stuff like crib and highchair.  While not all owners will be as responsive, Audrey came through!  Within a few days, she'd posted lots of additional photos, she'd answered my questions about certain amenities, and she'd offered to see about getting a crib and highchair.  It never hurts to ask!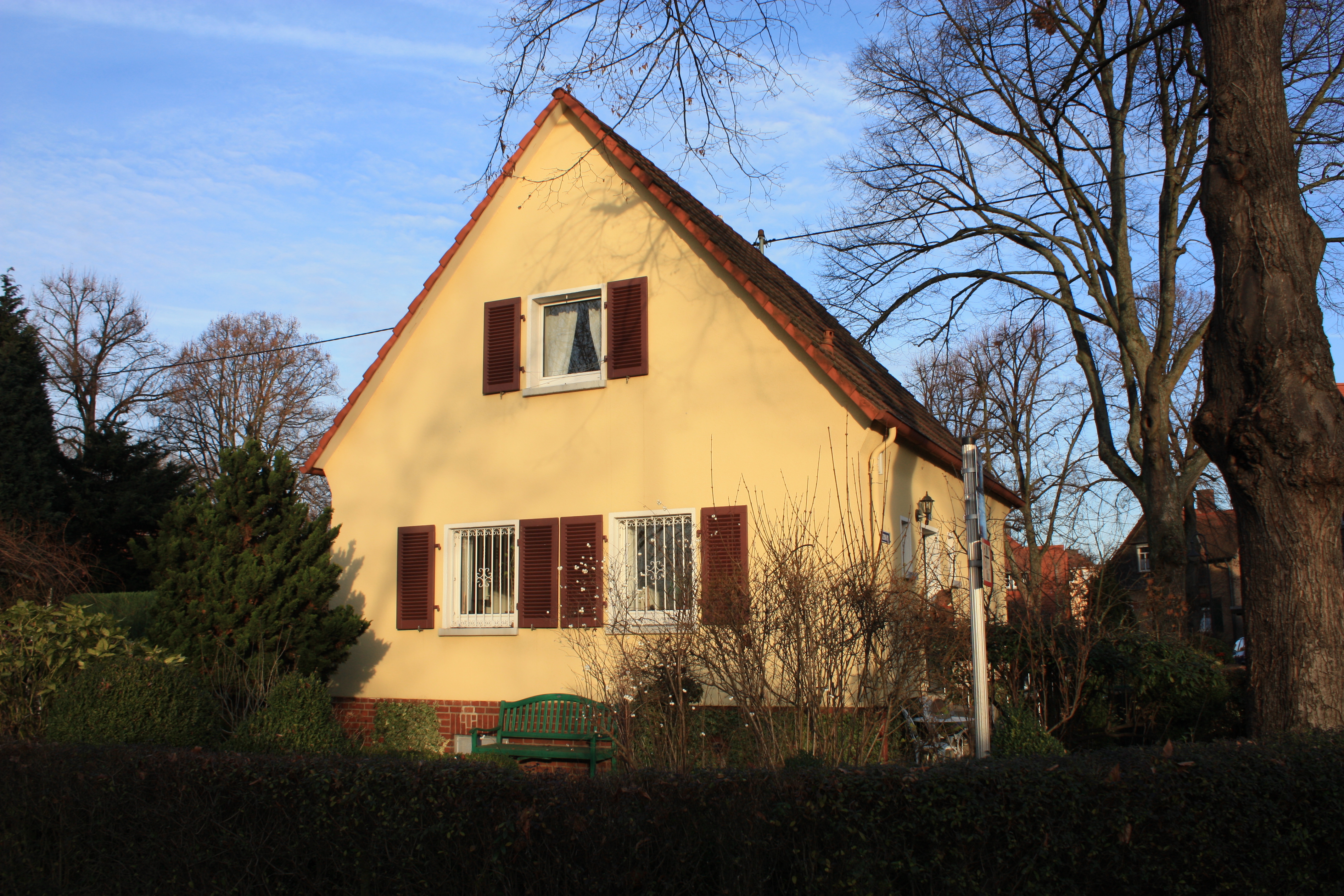 The bungalow in Frankfurt where we stayed the night on our way back from Portugal!  A darling little house.
Ask about pets.  My sister's family has some allergy issues, including some serious ones.  Last year as she arranged a vacation rental in London, she thought she'd found the perfect spot.  She enthusiastically made the reservation.  A few days later, when corresponding with the owner, she somehow discovered that there were pets on the premises.  Given the allergy concerns, this was unfortunately a deal-breaker.  She was able to cancel the reservation without penalty, and went on to find an alternative for their family trip.
Smoking?  Going hand-in-hand with the pet question is one about whether smoking is permitted in the house.  If it is, that likely means the owner smokes, too.  And since the smell will likely remain even if the activity does not, you'll want to be sure you're okay with that.  While our family would always choose a non-smoking hotel room, we decided to not let this one be a deal-breaker for us this summer since the weather will be nice enough to open windows if the smell is too strong.
Public transport.  Spend some time digging into the public transport options in and around the rental you think you want.  In some cases, proximity to transportation will require that you skip over the otherwise perfect rental.  In our Paris search, we found an excellent house (dubbed the "Bobo House" on airbnb) with friendly, responsive hosts.  It had so much going for it.  We were close to booking it.  But as I played around on Paris' Métro website and with CityMapper, I figured out we'd need to walk to the bus, wait for the bus, take the bus to the Métro stop, wait for the Métro, and then in many cases still connect to one additional Métro line before making it to many of the tourist spots in Paris.  All in all, it'd be 30-40 minutes to get most places.  Not so bad if you're heading out for the whole day and returning in the evening–especially since the Bobo House had so much else going for it.  But for us, with at least one napper daily, the time spent "commuting" just wasn't worth it.  Plus managing all four kids through the waiting and transfers.  We decided to keep looking.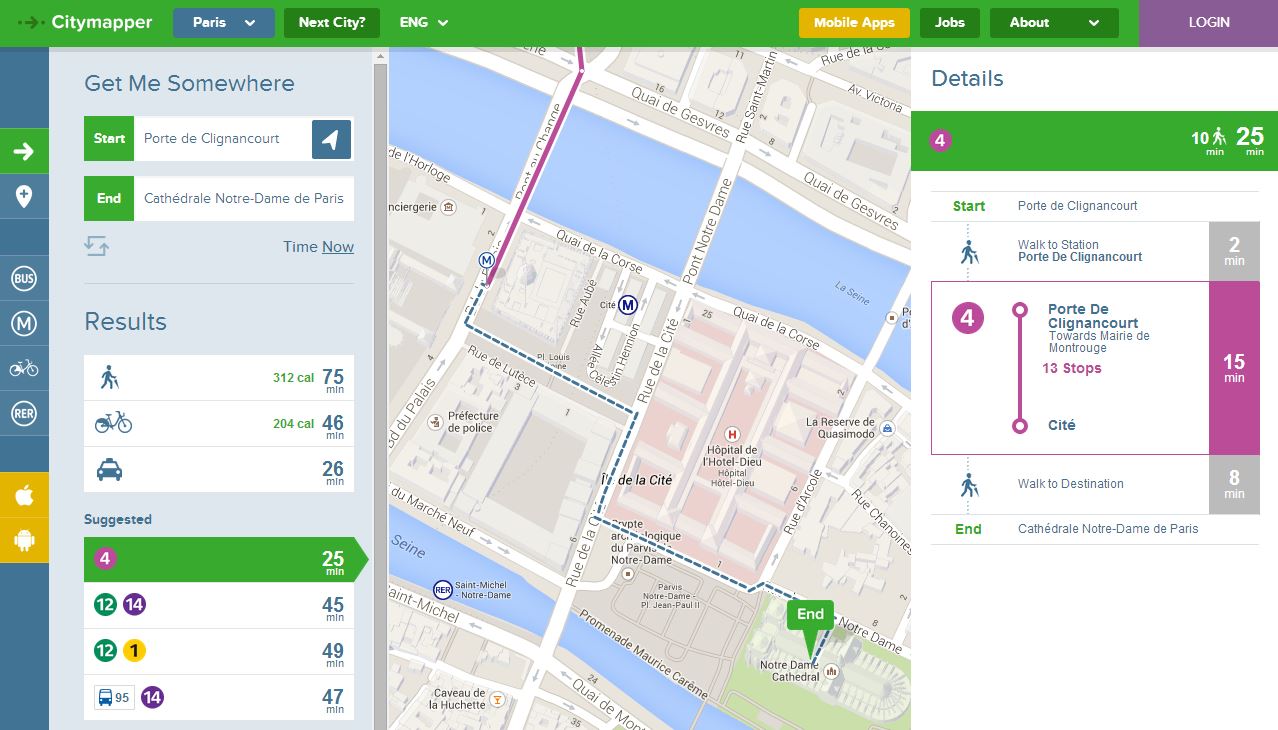 For Paris, London, Berlin, and New York City, CityMapper is another great mapping tool, including walking, buses, subways, and even bike rentals!
Ping for responses.  Another challenge with vacation rentals is non-responsive owners.  In some cases, I think owners list on airbnb and then go their merry way, thinking at some point they'll make some money when it's convenient for them.  I'm not saying this to badmouth the owners–just to highlight that there are some who aren't really into the vacation rental business.  They may be unresponsive, and their availability calendar may be entirely not current.  So if you find a few rentals that make sense for your family, send a note before you get too excited about your favorite.  It may not be available or you may never hear back from the owner before your trip.  Plus, getting a dialog going will help you answer some of your other questions and you'll start to get to know each other.
Mention the kids.  In your correspondence with owners, mention your kids and their ages.  Not only will you be able to gauge the kid-friendliness of the house (and the owner) based on the response, you'll also be able to set expectations for the owner early on.  We got really far down the road with an owner outside Paris, and finally she said the stairs were too dangerous and she was too worried about her white couch.  As bummed as we were (we LOVED the little village along the Seine where this house was located), it was better to just get that concern out in the open and move on.
Look closely at the pictures posted.  Is there stuff on all the shelves that your two-year-old would dismantle/scatter/break?  Does the rental have a well-kept appearance?  Can you piece the floorplan together to fill the gaps in the description and amenity listings?  Like the old adage says, a picture is worth a thousand words.  When picking a place to stay, this is none too true.
Is there wiggle room on the price?  Vacation rental websites list prices, but keep in mind that in many cases, you're dealing with owners/residents who may head out of town during your visit and stand to gain from any additional income the rental provides.  As such, there's often flexibility on the price.  With airbnb, if you inquire about a property with specific dates, the owner can come back to you not only with answers to your questions, but also with a specific offer (which, in my experience, is often a bit lower than what the website shows by default).  And some owners will be willing to specifically talk price with you.  Just one more case in which capitalism seems to work just great.
It feels like a long list, I know.  But really, it's only eight things to keep in mind, and these can go a long way to ensuring a great stay for you and the kids.  Hopefully you'll find just the right spot!