So, you've got a big family trip on the radar, and it's going to take you outside the U.S.  You know what that means–passports for the whole family!
While I admit the cost of passport applications fees adds up, just remember this will be worth it, and hopefully you'll be spreading the cost over multiple trips throughout the validity of the passports.
What countries require a US passport these days?  Pretty much all of 'em.  Any time you cross the US border, whether by air, land, or sea, you'll need it.  In the case of land/sea travel, including cruises in the western hemisphere (e.g. the Caribbean), there's the option of a "Passport Card," which is less expensive ($55/adult, $40/minor) and smaller, but if you're going to the trouble of applying and you think there's any chance that you'll be traveling internationally by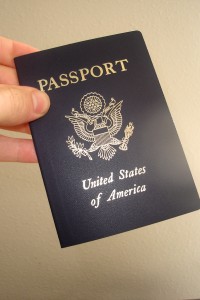 air in the next 5-10 years, I'd recommend going for the standard passport.  Save yourself the trouble and money of a second application.
For families with kids, you'll need to apply in person.  The same goes for adults if it's a first passport or if the previous passport was lost/stolen or issued more than 15 years ago.  So you'll need to plan a visit to a passport agency or post office.  The good news is you can fill out all the forms and have everything ready to go before you get there.
There are basically three age categories for passport applications, with varying forms, identification required, and validity for each.
Since there's the risk of the passport application process changing, and I don't want to lead you astray, I recommend you take a look at the Department of State website to get the forms (links below), make sure you know what you will be required to provide, and check prices and other process-related questions.  That said, I've tried to summarize it all below for quick reference.
Here are the specific links for each age group for new passports:
Minor (less than 16 years old)
16-17 years old
Adult (18+ years old)
These links are also the best place to get additional info when it comes to renewals or other special circumstances.
Overview of passport details (by age):
AGE

<16 YEARS OLD (MINOR)

16-17 YEARS OLD

ADULT (18+)

VALIDITY

5 years
10 years
10 years

FORMS NEEDED FOR FIRST-TIME APPLICANTS

DS-11 (complete online and print OR print and complete by hand)
DS-11 (complete online and print OR print and complete by hand)
DS-11 (complete online and print OR print and complete by hand)

PARENT NEEDED?

Both parents are normally required to be present, but exception forms can be used (

notarized

DS-3053 or DS-5525 if single parent legal custody/guardianship)
No parent presence is required, although one parent present is "recommended."  Alternative proof of "parental awareness" can be used (see below).
N/A

ADDITIONAL ITEMS NEEDED

Evidence of US Citizenship
(e.g. certified birth certificate)

Evidence of Parental Relationship
(often shown on birth certificate)

Parent photo ID, with photocopy
(e.g. valid driver's license, valid passport)

Passport Photo (color photo, 2″ x 2″)

Passport Fees (see note on "payment methods" below)

Evidence of US Citizenship
(e.g. certified birth certificate)

Proof of Parental Awareness (if no parent present; see website for details)

Photo ID, with photocopy
(e.g. valid driver's license)

Passport Photo (color photo, 2″ x 2″)

Passport Fees (see note on "payment methods" below)

Evidence of US Citizenship
(e.g. certified birth certificate or valid passport)

Photo Identification, with photocopy
(e.g. valid driver's license, undamaged passport, current gov't/military ID)

Passport Photo
(color photo, 2″ x 2″)

Passport Fees (see note on "payment methods" below)

COST
$80
+$25
$110
+$25
$110
+$25

WEBSITE

Under 16 Details
16-17 Details
Adult (18+) Details
Worth knowing
Just a few additional notes about the process, including take-aways from our family passport application experience last fall:
One very handy thing for the DS-11 form is the fact that you can fill it out online and then print it to take it with you.  I find typing to be faster than handwriting, so that's a score right there.  But even better?  The fact that once you print your first form (e.g. for your first child), you can use the back button, make edits to your entries for your second child, and then print that form.  And so forth for your whole family, which means you won't have to enter your address or other data common to your family members.  Very handy.  You can also save the PDFs instead of printing, so you have a backup in case anything goes wrong or the form gets lost.
Only print on one side, including photocopies and forms.  I made the mistake of being conservation-minded when printing out our applications by using two-sided printing, and wouldn't you know, with four kids in tow at the Post Office, the agent required us to fill all of the forms out again by hand.  Bummer.  But now you won't make the same mistake!
Passport photos are funny.  Funny for a variety of reasons (e.g. we've all seen bad ones), but in my case, funny because I wanted to save money and take the photos myself, but was so worried about getting the photos exactly right that eventually I gave up and headed to the photo center at the nearest drugstore.  Wouldn't you know, the drugstore employee simply pulled out a white piece of poster board, sat each child on a stool in front of it (while I held the poster behind), snapped some pics with a 3-year-old digital camera (i.e. no bells and whistles), and then cropped to 2×2″ and printed the pictures.  I'd found an online coupon for the photos, but it still set me back about $40.  Needlessly spent?  Possibly.  But honestly, trusting that my application would get approved without any photo problems was worth it to me.
DO NOT SIGN form DS-11 until you are at the passport acceptance facility applying in person and the agent tells you to sign.
When looking for a Post Office where you can apply (click here for the search tool), you'll notice most Post Offices are by appointment only.  MAKE AN APPOINTMENT.  The hours may not be ideal (i.e. during the kids' school day), but we attempted to go to one of the walk-in Post Office locations (and we still needed to take the kids out of school), waited about 90 minutes (some of the most frustrating minutes of our lives), and with very little movement in the line, eventually called another nearby Post Office that happened to have a cancelation, where we quickly drove to complete the application process.  My guess is you'll have better luck with Post Offices in the suburbs, but your experiences will likely vary.
The standard estimated time for getting a new passport is 4-6 weeks, and I imagine it gets close to that in the spring when lots of people apply in preparation for summer travel.  But when we applied in October, we received the passports in the mail about a week later.  (I was shocked, really.)  There is also the option of official expedited service (3 weeks) for a surcharge.  Note that you will be sending originals (or certified copies, which are like originals) with your application.  As worries as you might be that you'll never see these again, they will be returned.
Payment methods are overly complicated, and you'll want to look closely at the website AND ask about it when you call to make your appointment.  But since I'm an advocate of using miles-earning credit cards whenever possible, be sure to ask about whether that's an acceptable method.  In many cases, it will work for the application fee (the bigger of the two fees), but not for the execution fee, which is paid separately and often requires a check of some sort.  Passport agencies are the most flexible when it comes to paying the fees with credit cards, but it will work at many post offices, too.  Just be ready with the right form of payment or you might have to leave and come back–and let's face it, by the time you're done wrangling the kids for this activity, that's the last thing you'll want to do.
One last note about expediting services–if you google "expedite passport," you'll find a number of third parties (private businesses) that are there to speed up the application process.  The prices range from about $65 and up, depending on how fast you need it.  But honestly, this is only helpful if it's the last minute.  These services don't actually ease the process of applying.  You are still required to go to an official location with your forms to prove you're who you say you are.  But once you've done that, you'll turn the certified application/forms over to the third party and they'll somehow push it through the red tape and have your new passport to you in as soon as 24 hours (for the right price, of course).  Anyhow, just thought I'd mention it since these services are widespread.  Hopefully you won't find yourself in a position that you need to use them, because they can be quite pricey–and that's on top of the standard fees that you'd be paying already.
Plan ahead, and you'll be ready with the passports well before the trip.  Now just be sure not to lose them…