After several weeks of seemingly non-stop Paris tourism—which was great, but wore the kids a bit thin—we decided to indulge them in something they weren't expecting, something truly special.  We took the kids to Disneyland Paris.  I know, I know, on the surface it seems a bit silly—go all the way to Paris with all its great sites, history, and culture, and then go spend a day at Disneyland?!  We had this same conversation with ourselves as we considered it.  But after researching it a bit, and with the invitation from some friends who would be in town from the UK, we figured it was worth a try.
Our Metro passes wouldn't get us all the way to Disneyland, so the night before our Disney day, I had stopped at the Metro ticket counter to get what we needed.  The roundtrip tickets cost about 15€ per adult (half that for the big kids).  I was happy not to have to deal with the ticket purchase with all the kids waiting—that never goes well.  The next morning, we hopped on the Metro towards central Paris, with a transfer at Chatelet-Les Halles to RER A (A4) headed towards Marne-la-Vallée/Chessy/Parc Disneyland.  Note that not all RER A trains go to Disneyland, so make sure you check the signs before climbing aboard the train—even if you're on the correct platform.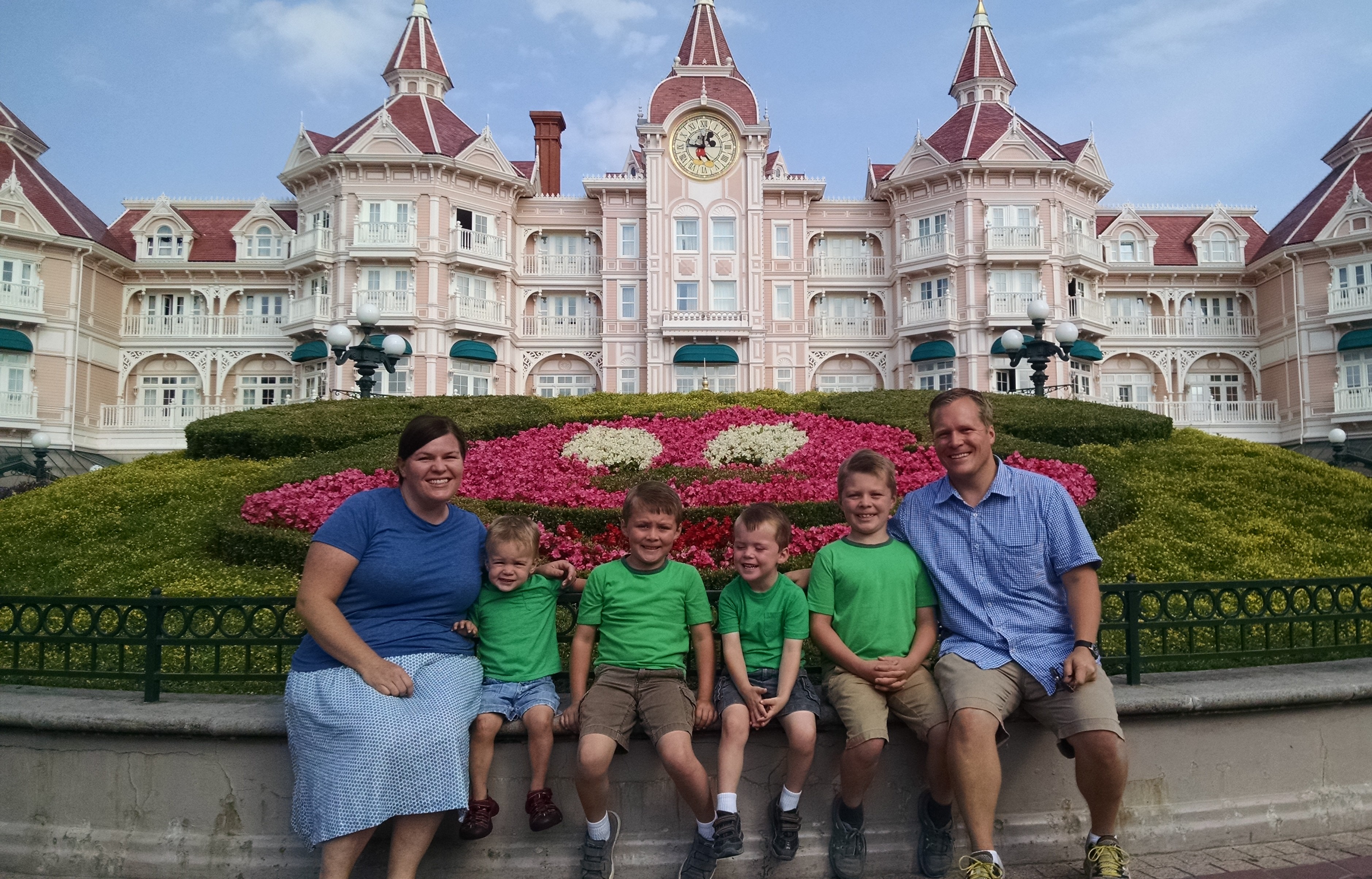 The RER station (terminus) is about a 2-minute walk from the entrance to Disneyland—very easy.  So before we knew it, there we were in that magical place where dreams come true.  Perfectly clean.  Totally kid-friendly.  Garbage cans readily available.  It looked a lot like Disney parks in California or Florida—except here, it was full of people from all over the world.  Lots of French, sure, but also families from the Middle East, the Far East, Africa, Australia, the U.S.  You name it, we seemed to brush shoulders with them.  The workers all spoke at least French and English.  Everyone had a smile on their face, and everyone seemed to have received the "only happy people allowed" memo on Disneyland.
We have not taken our kids to Disneyland in the U.S.  In fact, Emily had never been to Disneyland, either.  It was a real treat for the whole family.  I heard someone compare Disneyland Paris to Disneyland U.S., saying that the Paris Disney felt like the U.S. versions from 20-30 years ago.  I think by that she meant it was smaller, cozier, and more doable in a single day's visit.  And it definitely had smaller crowds than a U.S. Disney in the middle of the summer.  We were there on a Friday, and the crowds were completely manageable.  We went on every ride that interested us in the whole park, made occasional use of our FastPasses (included with each ticket), and I'd say we never stood in a line more than 25 minutes.  In fact, most lines were no more than 10 minutes.  It was seriously great for our family.  The park is small enough that you can walk from one end to another in about 20 minutes, yet big enough to feel like a world apart with enough rides to keep everyone entertained.
As I searched ticket prices for Disneyland Paris, I was surprised to notice that the busiest (and most expensive) dates are the weeks around Christmas and the last two weeks of October.  Based on others' experiences, Wednesdays (a day when French schools get out early) can also be quite busy.  We were happy that our August Friday wasn't so bad.  (They price July and August as mid-range—not low season, not high season, so feel free to use that for reference if planning a trip at other times.)
In terms of specific rides, I recognized most of the rides from when I was a kid at Disneyland in California—there's Space Mountain, a submarine ride, Thunder Mountain, Space Tours, a Haunted Mansion, Peter Pan, Small World, and Pirates of the Caribbean, among others.  And there are some newer rides, too, like Buzz Lightyear.  The big boys went on their first big roller coaster (Thunder Mountain) and were ecstatic.  And we all loved the Swiss Family Robinson Treehouse, having previously read the book and seen the movie.
Eating at Disneyland is pretty pricey, but honestly, after eating in Paris for a few weeks, there were no surprises.  Plus, knowing what prices look like at U.S. theme parks had me braced for the worst.  Yes, we spent 10-20€ per person for lunch and dinner, but it was manageable.  There's even a buffet restaurant with pizza, pasta, and salad!
We weren't up to a late night with the kids, so we unfortunately didn't make it to the fireworks show that starts at park closing time, but everyone was so happy with the day's activities that it didn't matter.
Glad we went?  DEFINITELY.  Would we recommend trying to squeeze it into a week-long, first-time Paris trip?  Probably not.  But everyone had a great time, and it can easily be added if you decide to include it in your travels.