We've been in Paris nearly two weeks now.  We're getting comfortable with our neighborhood and routine.  One of the really fun things is to see how the boys interact with French children.  Initially, they were all too shy and embarrassed to say any French words to anyone.  On one of our first days here we were playing at our neighborhood playground.  Ben (7 years) was digging a giant hole in the sand.  A little French girl was standing next to him, watching, and talking away to him in French.  Finally Ben stopped, turned to her, and in his loud abrasive voice said, "I have no idea what you're saying!"  She stopped, then turned and walked away.  He has such a way with the ladies.
The first time a couple of French kids started talking to Lincoln (age 6) at a park, he ran over and hid his head on my shoulder, completely embarrassed.  I asked him if he tried saying some of his French words.  He responded, "I can't!  They're only saying the French words I don't know!"
Peter, who is three, chatters away in English to everyone, confidently assuming he is understood.  At a playground the other day, one kid asked Peter (in English) if he speaks French.  Peter said, "Of course I do!" and then continued right on talking in English.  He issues commands to all the children around him and gets frustrated when they don't understand and ignore him.
Charlie, who turned two this week, is a little charmer.  He does not speak any language yet, or rather, he only speaks the universal baby language understood by all.  Everyone we encounter loves Charlie.  He smiles and laughs and squeals and gives high fives.  I cannot tell you the number of strangers who play peek-a-boo with Charlie on the Metro.  He is definitely the winner of the make-friends-with-complete-strangers-everywhere-you-go award.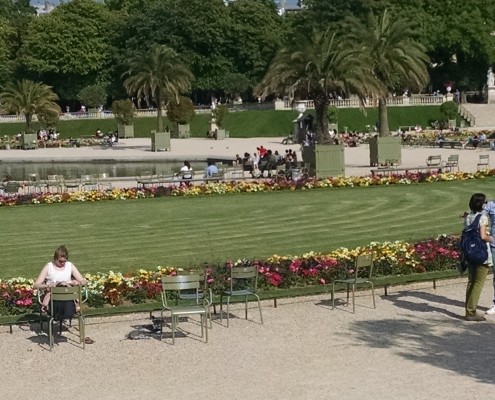 Yesterday we spent the late afternoon and evening at the Jardin de Luxembourg, an enormous Parisian garden/park.  There are breathtaking beds of bright, perfectly manicured flowers, perfectly green lawns (that no one is allowed to walk on), ponds and fountains, big trees everywhere, and lots of fun for kids.  It is really a beautiful place.  Toward the end of the evening, our boys noticed a handful of French boys playing soccer in a corner of the park.  They really wanted to join in, and having become more comfortable with the natives over the past two weeks, they bravely ventured over together (safety in numbers).
A happy surprise of Paris is that French children are very friendly.  They also seem used to encountering children who don't speak French, because it never phases them.  The boys at the park immediately welcomed our boys, happy to have more players, and they set about preparing for a game.  Some of the other kids spoke a bit of English.  There was a lot of gesture and pantomime going on.  Soccer is serious business in France.  These kids were intense.  There was a long discussion about where and how to set up the goals.  This finally accomplished, the boys set about picking teams and assigning positions.  Let me interject at this point that my children are not good soccer players.  When the game finally began, it looked totally professional.  Lots of heading and kneeing and fancy-looking moves.  The parents sitting on the sidelines cheered.  Our boys were both quickly reassigned as goalies, where they could do less damage.  Even though they were obviously way out of their league, everyone was nice and the boys had a great time.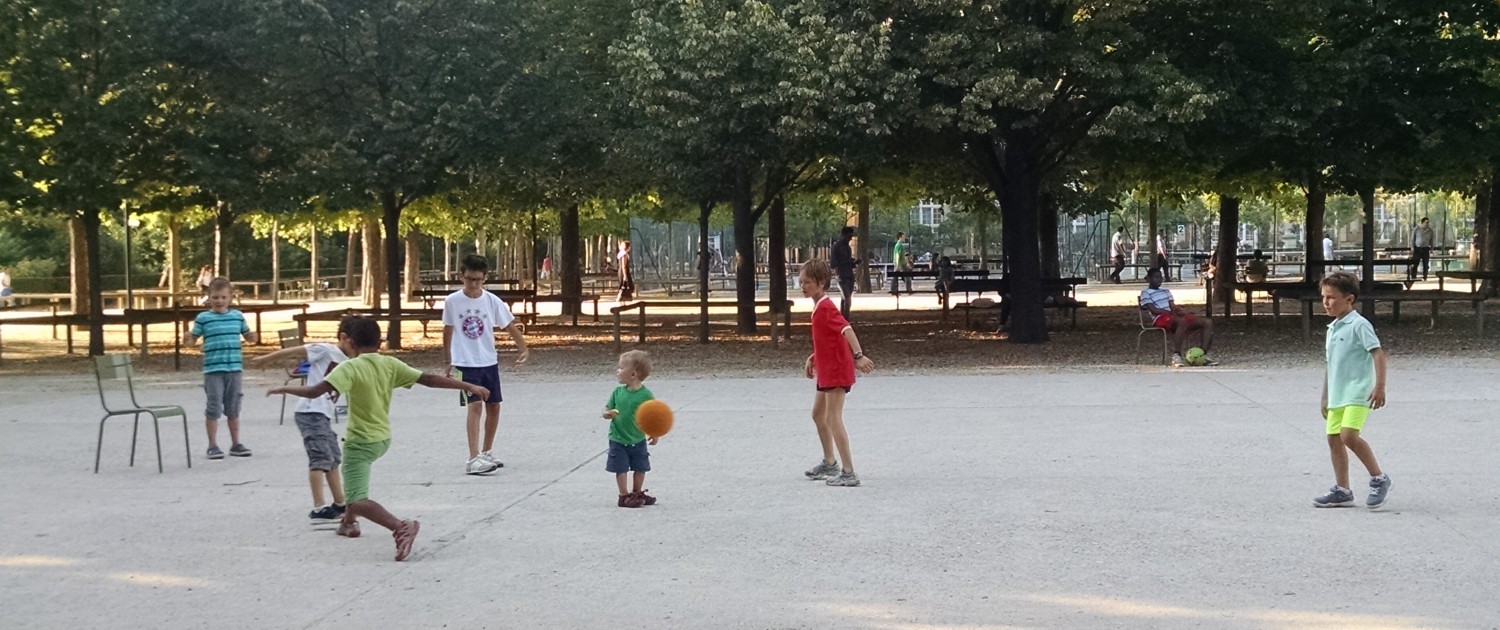 Children love to play with other children.  These interactions are always the highlight of the day for the boys.  It is so fun to watch them be brave and approach other kids, tentatively trying out their French phrases, and then just playing no-language-needed play.  They're making all kinds of new friends!