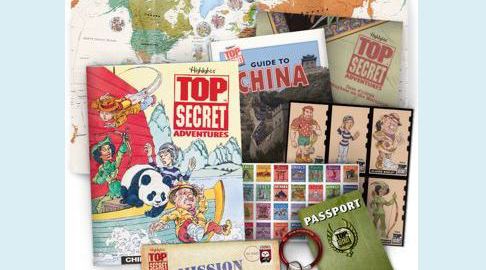 Welcome to the third installation of holiday shopping ideas for traveling families!  Click here for the full (and growing) list of gift ideas.
Today's recommendations: Top Secret Adventures by Highlights
Remember sitting in the dentist's office as a child and finding the Highlights magazine?  I do, and my favorite was always the hidden pictures section.  Well, it turns out Highlights now has something for our young travelers!  It's called Top Secret Adventures, and it's a great series of activities for elementary schoolchildren.
Top Secret Adventures is structured as a monthly subscription, but instead of coming as an ordinary magazine, it includes the following in each monthly kit:
A Mission Assignment Letter describing the top secret mission/assignment and starting point in the country where the crime was committed; the letter is often written using a simple code (e.g. printed backwards so you need to read it in the mirror)
A Puzzle Book with ~10-15 activities that will, when completed, provide all of the information needed to catch the villain and return the stolen item to its proper location; activities include Hidden Pictures (hooray for me!), word scrambles, codes, logic games, mazes, and fact-based problems that can be solved with the help of the Country Guide (see below)
A Country Guide, written for kids, with lots of great photos and interesting facts about the country; this ~30-page not only helps with some of the puzzles, it also could be a great companion on a future trip to the country
6 Villain Cards with facts about each suspect in the case; activity by activity, participants will narrow down the pool of suspects until they've got the culprit
A Mission Tag (i.e. keychain) that can be added to the Top Secret Spy Ring received with the first mission kit
Images courtesy of Highlights
The initial package also includes some orientation information (for parents), a world map, a passport book, country stickers for the passport, and an official top secret spy ring (i.e. carabiner) to which subsequent missions' keychains can be added.
Now that we've tried out two months' worth of these kits, here's our take:
It's pretty great!  Kids will be drawn in by the silly villains, their mischief, and the mystery of cracking the case and completing their mission.  Parents will be delighted by the things their kids learn from the country guides and associated activities, and if the country matches up with your upcoming trip, even better!  The activities are well done and are more than just a quick worksheet.  Activities take between three and ten minutes, depending on the type of activity and the age of the child.  The ones that include country facts (and researching in the country guide) may take a little bit longer, but if the kids have already reviewed the country guide, a single activity can definitely be completed in a single sitting.
As for ages, Highlights advertises 7 years and older in their marketing materials.  I'd say it depends on a given activity within the book, but third graders could probably do the whole thing on their own.  Fourth through sixth graders would almost certainly still find enjoyment in the missions, although some activities (such as the mazes) may be a bit too easy.  Our boys in first and second grade are well-matched to most activities but require some additional help with the fact-based questions, reading/understanding the country guides, and some of the instructions.  But the whodunit nature of the missions is just right for them, and the villain cards might even offset some of their Pokémon interests (if we're lucky).
Our second packet was for Australia, and since my sister is planning a family trip to Australia and New Zealand next year, I sent that kit along to her for her kids to try out.  She was delighted by the contents, finding it both relevant to her upcoming trip and well-matched to some sisterly teamwork (ages 7 and 11) to crack the case.
Check out Top Secret Adventures on Highlights.com for full details or to get started with a subscription.
One last note about the subscription—
It is a monthly subscription paid monthly (auto-pay by credit card is available), but you can cancel at any time and return packets for a refund if you're not satisfied.   You're only charged shipping and handling ($3.45) for your first packet, and you can even choose which country you'd like to start with.  Pretty great if you have an upcoming trip abroad and want to try this out with very little risk.
This might be just the thing for Grandma and Grandpa to order for the kids, but if you want one in time for Christmas, you may want to hurry—the website advertises 4-6 weeks for the first shipment to arrive.
Note: I do receive a commission if you order Top Secret Adventures using my links, but I purchased my own subscription outright and the review above is entirely my own, without compensation from Highlights.  I figured I'd throw that in there since this is a pretty positive review and may read a bit like marketing material from Highlights.