It's been just over a week in Paris and we're settling into our big-city lifestyle.  Our apartment certainly is European—a mix of tile and wood floors, small ancient bathrooms, tiny kitchen, no air conditioning, no dryer.  On one of the early days we did a load of laundry in the small washing machine that sits in the corner of a bathroom.  But like I said, there is no dryer, so we had clothes hanging in the two bathrooms and all around the apartment to dry.  After two days the jeans still weren't dry and the clothes everywhere were making me crazy.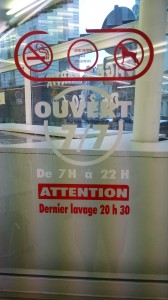 So yesterday we took a suitcase of dirty clothes to a nearby Laundromat instead.  It was a big job, but in about three hours the laundry was clean and wonderfully soft and dry.  With six people in our family—five of them messy, dirty boys—laundry is plentiful.  We've decided that a once-a-week trip to the Laundromat is worth it!
The owner of this apartment smokes and has cats.  Despite that, there was no smell of smoke, although the apartment did smell cattish when we first arrived.  I've done some cleaning and we keep the windows open a good deal, so it's freshened up in here.  The owner assured us that the cats could live outside during our stay.  Our first night here they assaulted the locked cat door, scratching and mewing and making a great racket all night long.  Spencer got up repeatedly to reinforce the cat door and shoo them away.  He was not in good humor the next morning.  We were vexed, to say the least, but after that first rough night, the cats have not returned.  It seems they got the message.  (If you are worried about the cats, they seem to be well cared for by the downstairs neighbor and very happy living in the garden.)
Shopping for food has been another big adjustment.  These tiny fridges and kitchens weren't made for large families!  In true European style we've been shopping frequently, but with four children we go through food amazingly quickly!  There are different stores for everything – the boulangerie for bread, the fruit and vegetable stand for produce, the poissonnerie for fish.  Refrigerated milk (they call it "fresh milk" here) is hard to find and has a different taste.  Food here is less processed.  There are very few packaged snack foods for kids (although plenty of cookies and chocolate).  The bread is always baked same-day, the eggs are all brown and unrefrigerated, and the bottled juices have no artificial ingredients and a slightly thicker consistency like real fresh-squeezed juice.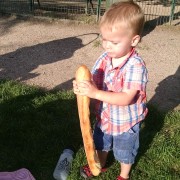 We're borrowing a little wheeled shopping cart, so like everyone else in the neighborhood, I pull my cart around to do the shopping.  I try to keep it pretty basic, but I always have about ten times as much food as everyone else.  On Monday we broke down (it didn't take long) and took a bus trip out to the big American-style supermarket to buy things like oats, dried beans, peanut butter, flour, brown sugar, and baking powder (all hard to find at the small neighborhood stores).  There is no cheddar cheese to be had for love or money, so we're trying to get the boys to like Emmental, the staple hard cheese in France.  We eat a LOT of yogurt and baguettes.  Overall, there are some new foods we love and some old foods we miss, but shopping daily on foot for a big family is exhausting.
Living without a car is another change.  We walk, take the subway, or take a bus.  The public transportation in Paris is excellent, so it's really not too bad.  Luckily our apartment is only a five minute walk from a very convenient metro line.  There are a lot of stairs in and out of the metro stations.  Taking a stroller down into the bowels of the metro is not convenient because there are so many stairs.  Taking the stroller on a bus is much easier.  We all get tired feet.  Little Peter (age 3) tells me, "I just need a little break Mommy.  Can we sit down?"  Most of the time, the boys do great with the walking.  They've become expert at swiping their cards at metro stations, squeezing onto crowded trains, and running to catch the bus.
We are lucky to have a large home in Texas, so this small apartment is certainly different.  Despite the tiny kitchen, which is my biggest complaint, the space hasn't been too bad.  It gets cluttered quickly because there isn't much room, but it's also quick to clean.  The thing I really miss is our backyard.  Oh how I miss that backyard!!  Our boys spend a lot of time playing outside at home, which contributes to everyone's happiness.  We'll be happy to see our backyard again.  And our playroom.
This city is really beautiful.  It's dirty and crowded and loud, as big cities are, but every time we come up from the metro into a new neighborhood, I'm struck by the beauty of the architecture and city itself.  It really is enchanting.  I wouldn't want to live in a big city with young children (at least not my young children), but it's delightful to experience for a time!