Traveling at Christmastime can truly be an adventure.  Last year we took the family to Portugal, and you may recall the harrowing experience of getting there after some storms caused flight delays.  While it's true that Christmastime is a busy time to be on airplanes, it can be a wonderful time of year to visit Europe (though perhaps not Scandinavia—save that for sunshiny summertime).
Portugal was not crowded at Christmas, the streets of Lisbon were adorned with lights and decorations, and we had the beach to ourselves!
Frankfurt was cold but lovely, and we enjoyed a tasty German meal right there on Romerplatz in the heart of the city.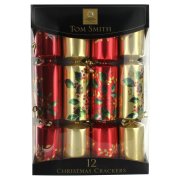 When I was in college, I spent several Christmases in London when my parents were living there, which was truly a delight.  One year we even got almost an inch…er…two centimeters of snow to make it extra special.  During that time I was introduced to a few Christmas traditions common in the U.K.  Most memorable is the use of Christmas crackers at the dinner table for everyone to pop open at the start of the meal.  Inside each cracker is a little prize, a joke, and a crown made of tissue paper.  Leave it to me to get the CRAZY idea of checking flammability of those paper crowns using one of the table's lit-candle centerpieces.  YES.  HIGHLY FLAMMABLE.  It really caught everyone's attention when I all of a sudden had a flaming crown that I was throwing down on the dressed table to keep from burning myself.  To this day, I get asked (by my sister, my parents, etc.) what possessed me to try that out.  (Remember, I was in college.)  Fortunately, there was no real damage—just "excitement."  Silly 22-year-old…
The other way in which travel and holidays can come together is through the collection of holiday decor and mementos.  Each year as we pull out our Christmas decorations, we smile as we set up the miniature cornhusk nativity we picked up at a wonderful little store in Prague.
Have you come across any wonderful holiday traditions when traveling abroad? 
Do you have any favorite holiday mementos gathered from abroad?  
Share them here, in the comments below!
But before you leave, enjoy this clip from British comedienne Siobhan Thompson, highlighting 10 ways in which Christmas traditions in the U.K. differ from those in the U.S.  Fun for travelers (especially Anglophiles), but really, fun for everyone.