There are a lot of great credit cards out there—several will earn you and your family flights across the ocean to see far-off places.  Most of the cards I recommend are "consumer" credit cards, but when I see a small business card with an offer that is too good to pass up, I need to share it.  That's where today's post comes in.
Chase Ink Plus is a great card.  The sign-up bonus is historically around 50,000 points after spending $5,000 in three months.  Right now that bonus is up at 70,000 if you use the link below.  That's more than enough to get at least one member of the family to Europe and back!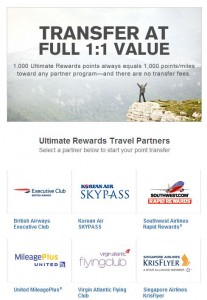 Chase Ultimate Rewards
Chase Ink Plus is a member of the Chase Ultimate Rewards family of cards, which includes Chase Ink Plus, Chase Ink Bold, and Chase Sapphire Preferred.  The thing that makes these cards so valuable is that the points you accrue can be transferred to a number of frequent flyer programs on a 1-to-1 basis, and then those miles can be used to book tickets.  This flexibility means that you can leave your points in your Chase account until you're ready to book a flight, i.e. after deciding which airline makes the most sense for your travel plans.
Chase points can be transferred the airline partners shown Table 1.  10,000 Chase points can become 10,000 miles in any of those frequent flyer programs.  And those miles can then be used to book free or almost-free travel on the airlines in the list PLUS the partner airlines within each alliance.
Table 1: Chase Ultimate Rewards airline transfer partners

| Transfer Chase points to the following frequent flyer programs: | Alliance |
| --- | --- |
| United Airlines | Star Alliance |
| British Airways | OneWorld (includes American Airlines) |
| Korean Air | SkyTeam (includes Delta Airlines) |
| Singapore Airlines | Star Alliance |
| Southwest Airlines | n/a |
| Virgin Atlantic | n/a, but partners with: Delta, Hawaiian, Virgin America (among others) |
Primer on Airline Alliances
Each of the biggest airlines in the U.S. belongs to a global alliance.  United is part of Star Alliance, American is part of OneWorld, and Delta belongs to SkyTeam.  The airlines in each alliance work together to get passengers where they want to go.  This becomes especially useful when redeeming miles for free flights, because you can use miles with one airline to book flights on a partner airline.  For example, American Airlines (AA) and British Airways (BA) both belong to the OneWorld alliance.  I can use American AAdvantage miles to book flights on American, on British Airways, or on a combination of the two (e.g. AA to London, then BA from London to Scotland).  I can do the same thing using British Airways miles.
So given the list of Chase transfer partners in Table 1, I could use Chase points to fly on United, American, Delta, or pretty much any other airline.  That's what makes Chase points so great—you save them up until you need a flight, you find available seats, and then you transfer your points and book your travel.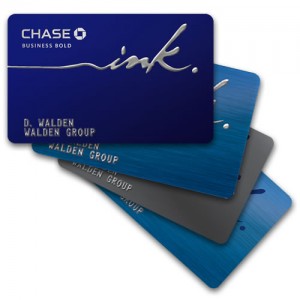 Are you a small business?
Since this is a small business card, you may be wondering if yours could constitute a small business.  Since many credit card issuers are interested in small businesses that could grow into something much larger, even if your side business is just getting started, Chase would probably be willing to consider you for this card.  You don't need to be incorporated.  Even a big-time eBay buyer and seller could often qualify for a small business credit card.  Selling your wares on Etsy?  You could probably get a small business card, too.
If you're not incorporated, you would just apply as a sole proprietorship with your own Social Security number.  If you are incorporated, you'd use your EIN (federal tax ID) for the business, plus your own Social Security number as the cardholder.
If you're still wondering whether a business card is right for you, check out this article for additional details.
Other card benefits
If you feel like you're ready for a small business credit card, this is a GREAT card to have in your wallet.  Not only is the sign-up bonus great, there are also ongoing benefits that will help you earn and carry-out travel in the future.
You'll earn 5 points per dollar on all purchases at office supply stores. This includes Amazon or other gift cards available at those stores.
You'll earn 5 points per dollar on cable, phone, and Internet bills.
You'll earn 2 points per dollar on gas and hotels (when you book directly with the hotel and not via Travelocity, Expedia, etc.).
You'll earn 1 point per dollar on everything else.
You'll incur no foreign currency exchange fees when using this card abroad.
In addition to the airline transfer partners, you can transfer points to Hyatt (at a good value) and a handful of other hotels (at a lesser value) for free stays once you get where you're trying to go.
An additional redemption option is to book travel through Ultimate Rewards (without converting points into frequent flyer miles for a particular airline).  In this case your points are valued at 1.25¢ per point, so 10,000 points is worth $125 in airfare.  You won't get as much value out of your points this way as compared to traveling internationally using frequent flyer miles, but this can be attractive if looking at lower-cost, domestic tickets.
There are other benefits (common to many cards, like rental car insurance), but the ones above are the ones that make this card stand out among the rest.  Unfortunately the $95 annual fee is not waived with this 70,000-point offer, but for 70,000 points, it's a small price to pay.  If the fee in the first year really causes heartburn, know that you can redeem 9,500 of those 70,000 points to cover the fee.  Not the best use of 9,500 points, in my opinion, but it's an option—and you'd still have 61,500 points (=miles!) to get you where you want to go.
If you're ready to take the plunge, here's a link to apply.  Enjoy the card—and the free travel that comes with it!
If you're still unsure about how to make frequent flyer miles work for you, check out Fly the Family for Free.