There are a lot of open-air markets around Paris.  In fact, there are whole books about them!  There are bird markets, book markets, antique markets, produce markets, meat, fish, and other food markets, and many more.  So finding a great one can feel like a big task.  In our travels, we found that the Marché d'Aligre was a great size—not too big, not too small—in a good part of town with a fun add-on kid activity just a few steps away.
We took Metro line 8 to Ledru-Rollin, just one stop past Bastille.  Exiting the Metro onto Rue du Faubourg Saint-Antoine, we stepped into an easy grab-and-go café with some tasty sandwiches, yogurts, and sides, called Aux Castelblangeois.  A few blocks further we arrived at the start of Rue d'Aligre, an outdoor market street with flowers, meats, produce, and plenty more.  After weaving among the fixed stores and the outdoor stands, we arrived in the Place d'Aligre, filled with wonderful produce, an entry to the covered market, and a medium-sized flea market.  Around the square were a couple of great boulangeries to round out any carb needs we might have had!
We delightedly browsed the fruit stands, finding some cherries, peaches, and strawberries to add to our bags for a picnic lunch.  The market wasn't overly crowded when we were there, and the market vendors were friendly and happy to help us find some good fruit.
With picnic in hand, we headed a couple of blocks to the start of the Promenade Plantée (also known as the Coulée Verte).  This is an old elevated railroad line/viaduct that was converted to an walking trail with dense gardens about fifteen years ago.  Below the trail, the archways that support the viaduct are now filled with galleries, workshops, and various home décor stores.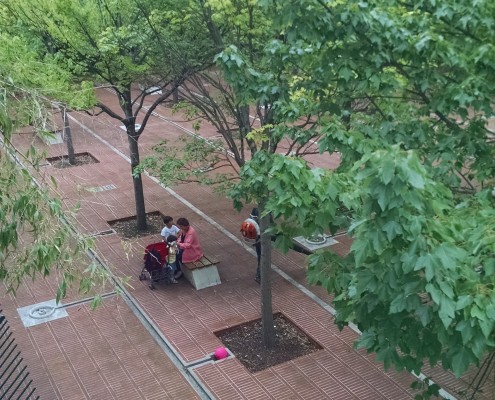 You can access the viaduct from various stairways down to road level.  The easiest access from the Marché d'Aligre is a set of stairs leading from 19, rue Hector Malot, about two blocks from the marché.  Not only does this provide access to the trail atop the viaduct—you'll also find here a shady area full of benches that could work well for a picnic or a gathering of more than just your immediate family.  Once on the trail, we turned left (southeast) to get the most out of the walk, although if you are short on time, you can turn right and head towards the end closest to the Bastille.  I call it a "trail" for lack of a better term, but note that it's paved and is definitely stroller-friendly (if you can handle the stairs at the start).
We enjoyed the Promenade.  It is nicely landscaped, with a good balance of buffering from and views of the city below.  Other folks on the trail included both local joggers, casual walkers, and just a few other tourists.  There is a mix of shade and sun, including some rose-covered trellises, bamboo groves, and taller trees.  There's a section of shallow water features, but keeping the kids out was relatively easy.  We noticed (and used) a public bathroom along the trail just after the water features and just before a very nice park, Jardin de Reuilly, over which you traverse on a sturdy pedestrian bridge.  The park includes a sizable playground with the standard (great) Parisian offerings, a snack bar, and a great grassy field (that you're allowed to walk on!).
Since you'll probably want to wash any produce you buy at the marché, you'll be happy to know that there are water fountains every few hundred yards along the trail–they also come in handy for refilling water bottles!
From the Bastille end of the Promenade to the park, it's about a mile.  If you pick up the Promenade on Hector Malot, it's closer to ¾ of a mile.  It's really a nice little walk above Paris when coupled with the marché beforehand.
The Promenade opens at 8am during the week, 9am on weekends.  Closing times vary by season, but it looks generally like it closes around dusk.  The Marché d'Aligre runs Tuesday through Sunday until early afternoon (~1pm).