Who we are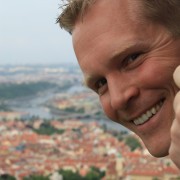 Spencer
Spencer was born to a traveling family.  Before the age of eighteen he had traveled to 19 countries spanning 6 continents.  His parents and siblings are all globetrotters. Spencer is the logistical powerhouse and the technical writer behind this operation.  He is excellent at the research, deal-finding, and frustrating details of planning a trip.  Spencer has a BS in Mechanical Engineering from Brigham Young University, and an MBA from the Harvard Business School.  He impresses others with his amazing knowledge of geography, weather, the ski resorts of North America, and Microsoft Excel.  Learn more about Spencer here.
Emily
Emily has an adventurous soul.  She first tried exploring the world at the young age of ten when she ran away from home, but her parents thought her too young and called a nice policeman to find her and bring her home.  Her next chance came as an undergraduate student at Brigham Young University as she participated in a study abroad program in London.  Emily is the researcher and the story writer behind this operation.  She loves to read, analyze, assess. Emily has a BA in English from Brigham Young University and a JD from The University of Texas School of Law.  Emily is a Texan.
What we're about
WHAT?
The idea of taking your kids to a foreign and faraway place can be daunting! You may like the idea but not know where to begin. We want to help. We started Family Explorers to encourage families to venture out and explore the world; to share our tips, experiences, and logistical expertise; and to help families prepare before leaving home in order get the most out of their international travels.
Encourage Exploration. For us, traveling together is a parenting choice. Our cultural experiences have changed us, strengthened our family, and benefitted our children. We invite you to go out and explore the world! To spark your interest, Family Explorers shares both research and experiences–research on a variety of family travel-related topics, as well as our own travel experiences and stories.
Share Expertise. We've been to London, Paris, and Taipei. We've been to Hong Kong, Australia, Amsterdam, Mexico City, Prague, and beyond. We are good at booking flights, negotiating airports, researching places to stay, and saving money. Family Explorers shares this practical information with you. We want to take the stress out of international travel planning, share our logistical expertise, and help you know where to begin.
Prepare Before You Go. A family adventure, especially to a foreign land, is a big investment of planning and time and money. We want you to get the most out of your trip. Family Explorers will help you prepare before you go. Use our materials to help your children engage and get excited, to spark the curiosity to ask questions and seek answers, and to help your whole family gain an understanding of different cultures and the good things others cultures have to offer.
We are a family who loves to travel. We were originally a boy and a girl who loved to travel. The boy and the girl got married, and before long, added a baby boy to the ranks. A second young gentleman soon followed, then a third, and finally, a fourth! So here we find ourselves, now a family of six with four dashing young lads, and still a boy and a girl (now better known as dad and mom) who love to travel.
---
WHO?
For several years we were afraid to travel as a family. A few especially difficult and stressful traveling-with-young-children experiences reinforced this fear. The boy and the girl who love to travel took a few trips sans enfants, reliving the glory days. We did not dare (nor desire) to take our young children with us. Then a set of grandparents moved to Portugal. Portugal! This was a turning point. Taking our wild young ruffians to visit their beloved Grammy and Grandpa was enough of an incentive to temper our fear. We took the plunge and traversed the Atlantic–all of us.

We found, in Portugal, that we believe in family travel. We've always enjoyed traveling. But the pleasure we've long felt in engaging in a favorite leisure activity has begun to change into something more deeply held. We had some really great experiences with our boys in Portugal. Exploring a foreign land together was good for our family. Of course we want to introduce our children to history, languages, geography, culture, poverty. We want them to see that the world is a varied place, and to appreciate how very fortunate they are. But we also believe that simply being away from home together, whether it's in San Francisco or Spain, is one of the best ways to create a strong family narrative, to build memories, and to nurture our children.
---
WHY?
Having traveled both with and without children, it is true that taking young children on a long journey is more difficult than leaving them at home.  But, I remind myself, nothing that is worthwhile is easy.  There are many good reasons to travel together as a family.  And truly, despite the challenges, we've found that the fun of having our kids with us (nearly) always outweighs the fatigue.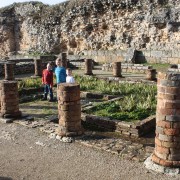 There is science that supports the value of traveling as a family.  Some interesting studies recently found that people gain more lasting satisfaction and happiness from their experiences than from their possessions.  This research gives credence to the idea that investing in family travel experiences will make your family happier than investing in a new car, for example.  Another study looked into the effects of multicultural learning experiences on children.  It found that kids who lived abroad and learned to adapt to other cultures, were better problem solvers and showed greater creativity.  Other research shows that children who know a lot about their family's history are better able to overcome challenges, have a stronger sense of control over their lives, and have greater self-esteem.  Of course you can share family stories at home, but we also enjoy sharing family lore while traveling, and look forward to visiting places that are significant to our family's history.
We like to read the research, and we think these studies are persuasive. But even more persuasive is our own experience. Traveling to a foreign land is a great adventure!  The excitement and tension of being in an unfamiliar place where you don't speak the language puts you and your children on more equal footing.  You face the unknown together, as a team.  Experiencing different cultures is good for you, and it's good for your children.  Being away from home together will strengthen your family.
---
HOW?
So let's get started planning an adventure!
Unfortunately, airlines aren't letting folks ride for free these days.  We recognize that travel is expensive.  Planning a family trip, especially once you begin to consider airfare and lodging and activities for each member of the family, can quickly become financially overwhelming.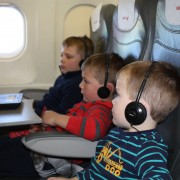 One of our goals is to help families travel affordably.  We can't do it for free, at least not entirely, but we do have some good ideas for saving money.  For overseas travel, airfare is probably your most significant expense. We have flown our family of six to Hawaii, to Portugal, and to Paris essentially for free using credit card points and airline miles.  We've coached friends and family members through the process of accumulating and redeeming points and miles with great success.  Family Explorers shares this information with you, as well as ideas about choosing an affordable destination, finding affordable lodging, and saving money once you arrive.
Start by thinking about where you'd like to go.  For many families, Europe is a great place to start when venturing beyond North America.  The history and culture of Europe are familiar to many of us.  We've studied its wars, its artists, and its architecture.  And there is so much to see!  But wherever you decide to go, be sure to browse our posts for helpful planning information.
And please contact us with questions or feedback!
Our travels
Our Travels
We've enjoyed seeing the world both with our kids (orange) and without (yellow)!
We're excited to have turned France orange this summer, as we headed there together as a family!
Keep up to date with our Paris adventures and tips here.
Contact us
Contact Us
Have something to share from your own travels?
Have a question about your upcoming trip?
Have an idea for a future article or website capability?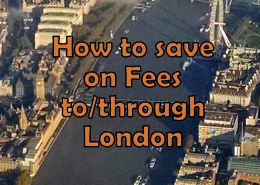 I've mentioned occasionally in the past that when using frequent…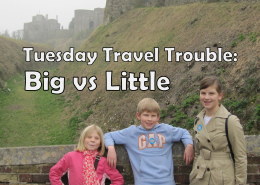 We took our kids to London for a week two years ago and got off…