Note: The limited time offer on the Starwood Preferred Guest American Express ended on 6/30.  The standard offer is still available, and to be honest, it's a good deal–you'll just end up with the 25K bonus offer instead of  30K.  Let me know if you'd like a personalized referral link (looks like I may still get a benefit from doing so–plus good karma for you!).
You're probably starting to see what you can do with responsible credit card usage.  You realize that you actually CAN afford a trip for your family if you play your cards well (yep, pun intended).  It really is true–we've taken our kids to Hawaii, Portugal, and France with the points and miles we've earned with credit cards and frequent flyer miles.  And we've helped friends and extended family plan similar trips abroad.  We want to help you do the same!
Great!  But which card?
Starwood Preferred Guest American Express
One great card that I'd recommend as you get started is the Starwood Preferred Guest (SPG) American Express.  For those unfamiliar with Starwood, it's the chain of hotels that includes Westin, Le Meridien, Sheraton, and others.  The main reason this is a great starter card is the flexibility of its points.  For every dollar you spend using the SPG AmEx, you get 1 SPG point.  Of course you could redeem these points for hotel stays–and in lots of cases, it makes good financial sense–but the thing that REALLY makes these points great is their flexibility.  You can transfer these points on a 1-to-1 basis to almost any of the airlines you're likely to fly.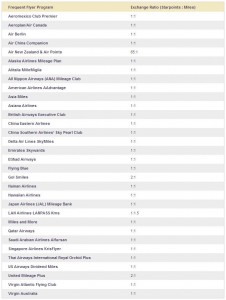 One of the best aspects of the SPG AmEx is the ability
to transfer points to this huge list of airlines
But it gets even better–for every 20,000 SPG points you convert to airline miles, SPG gives you a 25% bonus, so your 20,000 SPG points become 25,000 airline miles once they land in your frequent flyer account.
Right now the sign-up bonus is 30,000 points after you meet the minimum spending requirement.  So you get 10,000 SPG points after your first purchase, and then an additional 20,000 SPG points after you spend at least $5,000 in the first 6 months of having the card.  This is a promotional offer that ends on 6/30 (at which point the bonus drops by 5,000 points), so if you're thinking about getting in on this, don't wait long!
Once you've spent your $5,000 within 6 months, you've got 35,000 SPG points (10K + 20K bonus + 5K on your actual spending).  If you turned right around and transferred all of those to one of the airlines in the list with a 1:1 transfer ratio, you'd end up with 40,000 points in your frequent flyer account (35,000 plus the 5,000 bonus that SPG adds per 20K points transferred to an airline).  And since coach seats to Europe generally cost 60,000 miles, you're 2/3 of the way there!
If you held off on the points transfer and kept using that card until you had another 15K points in your account, you could then convert your total 50K SPG points into 60K airline miles.  A round-trip ticket to Europe!
Authorized Users
When applying for a card, you always have the option to add an "authorized user" to the account.  So if I apply for this SPG card today, I can add Emily (my wife) to the account as an authorized user.  She and I then both have cards, although technically it's my account.  If desired, Emily could also apply for the card, and add me as an authorized user on her account.  Yes, then we'd have four cards that look the same, but with slightly different account numbers, which can get complicated, but it also allows both of us to work towards the minimum spending requirements on both accounts–and to adjust spending onto the account that can use the additional miles.
There is an annual fee associated with this card of $65, but it is waived for the first 12 months of cardmembership.  Yes, you can always cancel the card when the annual fee appears on your bill at the end of a year, but $65 is low enough that if you're still enjoying the perks of the card or growing your SPG points balance, it may be worth paying.  If you call to cancel the card after the annual fee shows up on your bill, that charge will be reversed.  So there's generally no reason to cancel before the fee appears.
While the SPG AmEx may not have the highest sign-up bonus out there, it's a great place to start, especially since the current sign-up bonus (through 6/30) is a limited time offer and gets you 5,000 more points than the standard terms.  This card program's flexibility and transferability is especially great if you're not yet sure where you're headed on your trip, since you can pick your airline farther down the road with lots of transfer partners.
More to come on the list of recommended credit cards, so hang tight if this one doesn't appeal for whatever reason.  If you want a head start on other cards, the Chase Sapphire Preferred card may be worth checking out.  But I'll write more details on that one soon.
Start earning!
Here's a link to apply for the card, or see my P.S. below: http://familyexplorers.com/go/spg-amex/
P.S.  I don't receive anything if you apply for the SPG card using the link above.  That said, if you're interested in applying for this card before 6/30 and would be willing to apply using one of my referral links, please email me at spencer at familyexplorers.com (use the @ sign instead of "at") to request a personalized SPG application link, and I'd be delighted (and thankful) to get a bit of an SPG points boost from of your application (the terms to you would all be identical).  THANKS!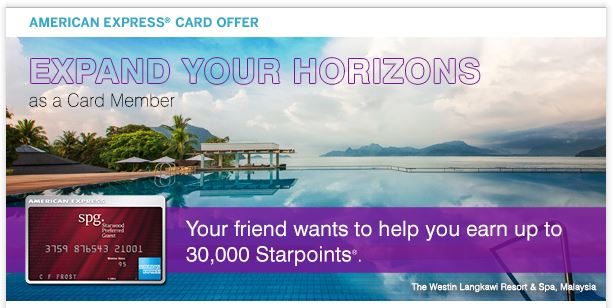 Note: if you're having any trouble with the link above, please let me know via email (see P.S. above) and I'll be happy to help you out.
If you're unsure about how to make frequent flyer miles work for you–or you just need some more info to get going–check out Fly the Family for Free.